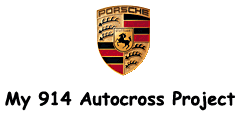 You are visitor number: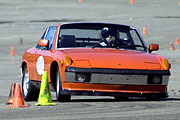 Projects
Pictures and Movies:
Porsche Parade Summer 2007
San Diego
March 2007 Autocross timed lap
Click Here
My first spin out

Click Here

November 2006 Autocross timed lap
Qualcomm Stadium Autocross 10-15-05, Check out the movie, the camera was mounted on the seat belt harness bar, this was my 1st try, there is a bit of wind noise, let me know if you have ideas on how to reduce it. Also check out the RaceDeck flooring which I use as a mat for my stuff, it came from RaceDeck of Southern California, they are really nice people.

Picture 01 Picture 02 Picture 03 Picture 04 Picture 05
MOVIE From Car

My first Autocross
Here are some pictures from the PCA San Diego Performance Driving School I attended
Here are some useful things that I have learned while working on my car:
Links:
Porsche 914 AD's and Collectibles
I would like to collect Porsche 914 AD's and Collectibles. But since I don't have the time, money, or space. So this is the next best thing. I've collected the images from around the internet. Mostly from ebay. If you have some you would like to share please send them to me.
Porsche 914 Ad's
Porsche 914 Collectibles

RETURN TO MAIN PAGE
Questions, Comments, or Suggestions? Write me!